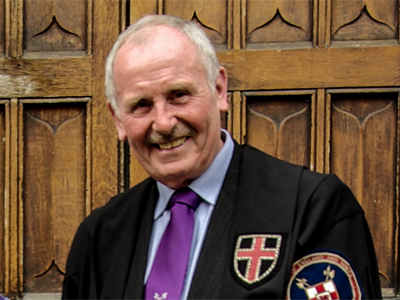 Eric Bulmer Chairman of the Plumber's Company is elected new Chaiman of the Wardens.
Although I was only appointed Warden of the Plumbers' Company in May 2013, I have strong family ties with the Freemen of Durham City and I am the fourth generation of Bulmer to be admitted to the Freemen; a line that extends to my great, great grandfather, Frederick Bulmer, who was admitted to the Company of Joiners by servitude in January 1851, and continues with the admission of my son Sean and daughter Jane in 2015. Sean is a partner in a City of London law firm and Jane is a lawyer in the United Nation Secretariat for Climate Change.
I am Durham born and bred and served my apprenticeship as a painter and decorator with P.L. Smith and Co Ltd of Elvet Bridge in the late 1950s where I developed an interest in gilding and signwriting. I later went on to teach my craft in a number of Further Education Colleges, eventually retiring 26 years later as Head of Faculty for Construction and Engineering at Newcastle College in 1996.
When I'm not cycling my interests include gardening, local history and watercolour painting.