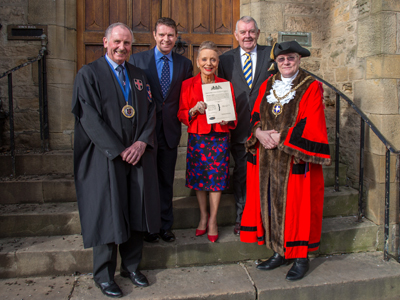 A woman reinforced her family's long-standing links with Durham City's ancient trade guilds when she was sworn in as a freeman.
Barbara Kingston, who joins two cousins recently installed into the Company of Drapers, insisted: "I know my maternal grandfather Joseph, who I was particularly close to, would be very proud if he was here to see me today."
Barbara was born in the heart of the city in the summer of 1940 and was the first baby christened in the chapel at St Hilda's College where her dad, Arthur Flowers, spent a working life broken only by service in the RAF in the Second World War.
But it was her mother Elizabeth's birth into the Vasey family that provided. Barbara's century-long ties to the guilds. Her great grandfather and three great uncles were all freemen, as well as sidesmen at the cathedral. Her granddad and his three brothers continued the line which was restored by her cousins Mary Hayes and Pamela Angus after changes in centuries old laws allowed the first women to be admitted in Durham in 2012.
The family discovered the name of a William Vasey, identified as warden, on the Drapers' Charter dating back to 1783 but have so far been unable to establish any direct family connection.
Barbara married policeman Alan in 1964 and they moved to Hartlepool where he was stationed at the time. A year later they came back to Durham where they lived until Alan, then an inspector at headquarters, retired in 1997 following 37 years service.
In retirement they moved to Cumbria where they both actively involved themselves in the wider community. Barbara was a churchwarden, member of the parochial church council and president of the Inner Wheel of Appleby, while Alan was installed president of the town's Rotary Club in 2002. They returned to Durham in 2006 and continued their involvement in good works, Barbara as a volunteer at St Cuthbert's Hospice and Lifespan, while Alan switched to the Rotary Club of Durham.
The couple have one son, Michael, daughter-in-law Marie and 18-year-old granddaughter Sarah who live locally.
Barbara boosts the total number of freemen to a record 241, 64 of them women.