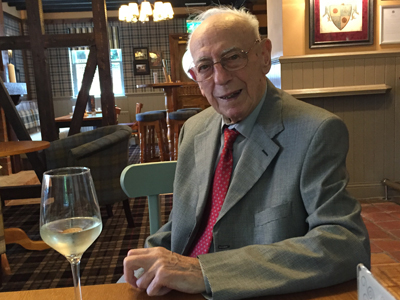 Obituary - James Fawcett Magee
4th July 1926 - 22nd November 2016
James (Jimmy) was born and lived his whole life in Durham City.
He was called up for army service in 1945 and did his training with the Durham Light Infantry at Brancepeth. before being posted to India, where he attained the rank of Sergeant.
He worked at the Post Office in Durham, starting as a Telegram Boy before becoming a Postman. He was a well known and popular individual and made many friends over the years due to his association with the City and during his service with the Post Office. In later years, he transferred to the Clerical and Administrative side of the organisation, eventually becoming a Postal Executive Officer.
James was a very practical man, who enjoyed DIY. He loved his garden and was also a lover of music especially Jazz. He also had a fondness for Saab cars.
He was admitted as a Freeman in 1947 and was a member of the Drapers' Company, of which he became Warden in later years.
James was married to Evelyn in 1953. He is survived by a daughter, Judith and twin sons, Andrew Fawcett and Stuart John and grand children Jill & Jennifer.