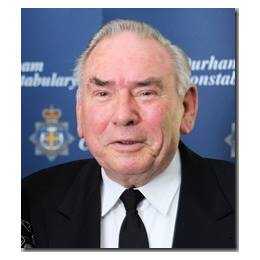 A long serving freeman, whose family links to the city's trade guilds stretch back more than 300 years, died in hospital on February 26th after a long illness.
Retired police sergeant John Reginald Stout, known to his friends as Reg, was admitted into the Butchers' Company in February 1964 and at the time of his death had been warden for more than for more than 30 years.
He joined Durham Constabulary as a cadet clerk in the autumn of 1949, a post he held for nearly two years. He became a police constable in 1952 and went on to serve in Stockton, Fencehouses, Houghton-le-Spring, traffic patrols and control room.
He returned to traffic in 1967 and was promoted sergeant a year later, carrying out various roles within that department until 1975 when he joined the motor school as an instructor. He retired in 1981 but continued as a member of the force's choir which he had joined when he was a cadet.
Alan Dufton, warden of the Barbers' Company and a family friend, said: "Reg was a man who was proud to call himself a freeman, a fact underlined by his long service as a warden and his family's historic connections to the city's butchering trade."
Eighty-three-year-old John lived in Belmont with his wife Margaret. The couple's daughter Heather, who lives in Chester-le-Street was sworn in as freemen three years ago – on the same day as her son Jonathon who was 19 at that time. Heather's husband Guy was already a member of the Butchers' Company.