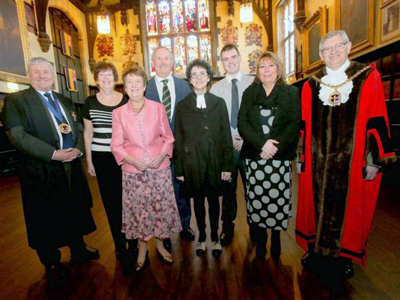 A priest who worked alongside the late Mother Theresa is one of six newly installed Freemen of Durham City.
Reverend Joan Donkin, who worked alongside the famous nun on the streets of Calcutta, said: "It is wonderful that the daughters of Durham are now a part of the city's traditions."
Among those carrying on family tradition are Eric Bulmer from Brandon who, like his ancestors, is a time-served craftsman, and sisters Susan Lyle and June MacKay who have followed their brother, father, uncle and grandfather into the draper's guild.
Heather Forster and her 19-year-old son Jonathan, who live near Chester-le-Street, also strengthened long-standing family ties when they were sworn in as freemen of the butchers' guild.
Photo: John Heslop, far left, and the Mayor of Durham councillor John Wilkinson, far right, with new
Freeman of Durham Susan Lyle. left, her sister June MacKay, Eric Bulmer, the Reverend Joan Donkin and Jonathan Forster, 19, with his mother, Heather, right, following the event at the Town Hall