Heart Scanner
The Heart of Durham Appeal organised by the British Heart foundation to provide a 2D echocardiogram for the University Hospital of North Durham. We were delighted to pledge £5000 to the appeal which represented ten per cent of the targeted amount.
---
Sound System for the Chapter House of Durham Cathedral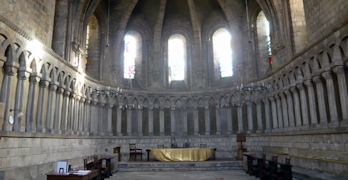 The Friends of Durham Cathedral were seeking funding for a sound system to be installed in the Chapter House of the Cathedral. The Chapter House plays an important part in the daily worship of the Cathedral as a vestry for services and as a place for worship during key moments in the Christian calendar. It is also regularly used as a meeting room and a venue for concerts and events in the Cathedral. Our support in providing funding will hopefully allow use of the Chapter House to evolve in new ways as well as improving existing use.
---
Mayor's Charity Appeal
As in past years we supported the Mayor's Appeal for her chosen charities which this year were Diabetes UK and St Cuthbert's Hospice. A cheque for £800 was presented to the Mayor at our Annual Dinner.
---
Durham Johnston School War Memorial
The Freemen were involved in the restoration and rededication of a memorial to past students of Durham Johnston School who died in the service of their country by donating £2000. The memorial was originally in the South Street premises of the school and was relocated to the Crossgate Moor site when the school moved there in 1954. Following the complete rebuilding of the school the memorial was restored and rededicated. Students of the school made a presentation about the memorial at the Candlemas Guild Day on 7 February 2011.