St Cuthbert's Hospice
Former Council Solicitor Richard Langdon was appealing for support for his fund raising attempt to climb Mount Kilimanjaro in aid of St Cuthbert's Hospice. The Freemen were happy to donate £5000 to the challenge. The 45 mile hike through rainforest and desert to the mountain's 19,000 foot summit was completed in October 2013.
Esh and Bearpark Colliery Band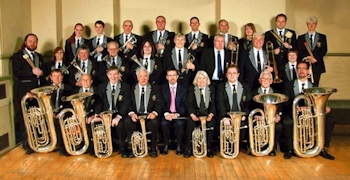 As there is a tradition in the City and surrounding communities of the colliery brass band we were pleased to contribute £1000 to help with the band's running cost.
---
County Durham Society for the Blind and Partially Sited
The Society does tremendous work despite having no formal sources of funding. We were, therefore, pleased to donate £1000 towards the production of the Society's Talking Newspapers.
---
St John Ambulance
We were happy to present the Durham Branch of St John Ambulance with £1000. They are known throughout the country for their voluntary work providing first aid cover for all kinds of public events.
---
County Durham Stroke Club
Sadly strokes are an increasing problem for individuals and families in the modern world. The County Durham Stroke Club was established and meets in at Bede Lodge Social Club in Framwellgate Moor. The Freemen donated £1000 to the Club and wish the organisers and their members.