29th May 2017
Recycle y'bike (£500)
Three years ago Recyke y'bike, a north east-based charity established in 2006, took the major step of opening a satellite shop in Durham's North Road with the twin aim of transforming old or unwanted bikes into a steady stream of mechanically sound safe machines to both the local community and charities based in Africa.
The charity relies entirely on the donation of bikes from members of the local community. Specialist staff, backed by trained volunteers, overhaul each machine to offer them for sale to the general public and the city's student population as viable local transport.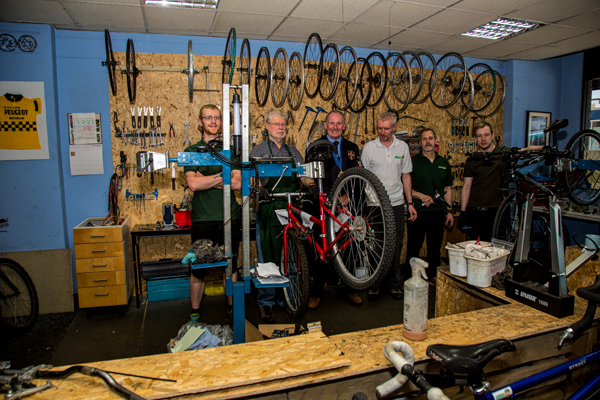 Additionally more than 500 bikes a year are shipped from Tyneside and Durham to both west and east Africa, supporting charities and projects like orphanages and schools in Kenya.
The charity's general manager, Karl McCracken said: "Support comes from right across the local community. Students are generous with donations when they complete their studies and the university too is a big help, giving us the abandoned student bikes they clear up at the end of each academic year.
"We are deeply grateful for the £500 donation from the freemen. The Durham workshop was initially set up on a shoe-string budget and this generous gift means we now literally have the tools to keep pace with demand. They are vital to the work of the three full-time staff, supported by ten volunteer bike mechanics, who work at the shop.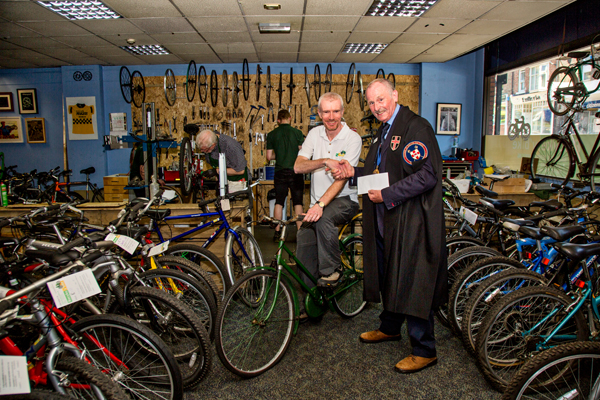 "We are established as a regional hub for nationally recognised certified bike mechanic training. Our volunteers are trained free of charge and this experience the opportunity to go on to employment with other bike shops "
Eric Bulmer, chairmen of the freemen's wardens said: "I am delighted this established charity has opened a branch in Durham and that we have been able to help underpin its development.
"Recyke y'bike not only offers a valuable service to the local and student communities but also provides training opportunities for individuals, many of whom are attempting to cope with a range of social issues and want to get back into employment."
---
13th July 2017
Remembrance Parade (£1000)
Proposals to transform a military spectacle into one of the "biggest and most prestigious" in the north of England have been given a major boost by Durham's Freemen.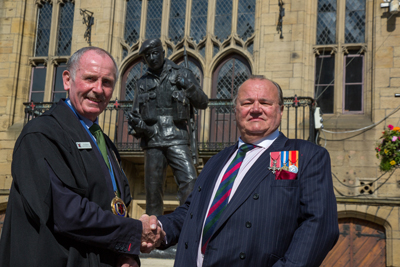 Against the back drop of the ancient city nearly 600 members of the regular and reserve units of the Army, Royal Air Force and Royal Navy will, along with members of the fire, police and ambulance services, take part in a march from Durham Cathedral for this year's Annual Remembrance Parade on Sunday, November 12.
Draft plans, formulated by retired firefighter Arthur Lockyear, are already at an advanced stage and a £1,000 donation from the Freemen has underpinned the expanded arrangements.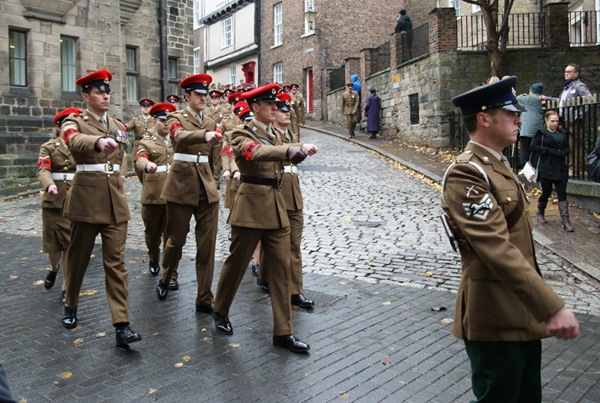 Last year nearly 400 military and emergency service personnel took part in the ceremony and Mr Lockyear confirmed the freemen's generosity would enable organisers to include an extra 140 participants and the possible addition of a military band to this year's event.
Mr Lockyear, who started his career as a fireman at the Fulwell fire station in 1976, devoted more than 30 years to supporting Sunderland's city centre Remembrance Day Parade and from 1995 until 2012 committed himself to reviving and developing the event - work that resulted in the award of an MBE in 2010.
"I have had the honour of assisting 'D' Rifles Company with preparations for the Durham City parade since 2014 and I hope it will fulfil its potential to become a great national occasion. The freemen's support has enabled us to bring many more members of the armed forces to Durham, adding to the poignancy of the occasion on this most important of days," added Mr Lockyear, who lives on the outskirts of Durham.
Eric Bulmer, chairman of the wardens of the freeman, said "We feel privileged to be able to offer tangible support to this year's parade. We know the act of remembrance still means a great deal to very many local families. People remain extremely proud of the history and heritage of the Durham Light Infantry and their successors which engenders the total respect of the citizens of Durham."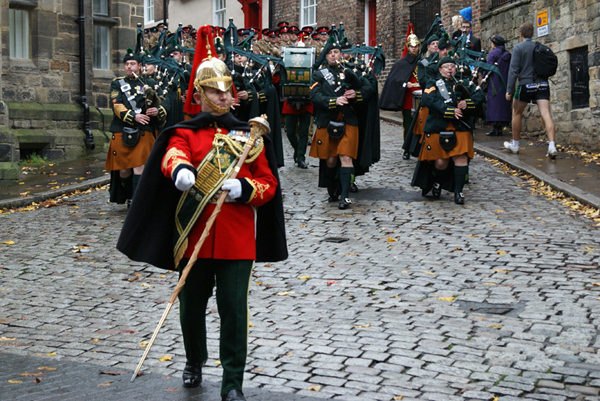 The 2016 parade included troops from the Royal Dragoon Guards, Foot Guards, Parachute Regiment, Light Dragoons, Royal Electrical and Mechanical Engineers, Royal Military Police and RAF Leeming. Fire service standard bearers from Scotland, London, Manchester, Nottinghamshire, Hertfordshire and Essex travelled to Durham to be part of the tribute to the "Fallen."
---

25th July 2017
TIN Arts
A face-lift for a dancing facility, catering for children and young adults from vulnerable backgrounds, has taken a big step forward – thanks to the City of Durham Freemen.
TIN Arts, set up at the end of the 1990s, offers inspiration to people of all ages with a learning disability, autism or additional needs to realise their potential through dance and the wider performing arts.
It has been delivering training and support in its dance space in Framwellgate Moor Community Centre and is now undertaking a major refurbishment costing £17,900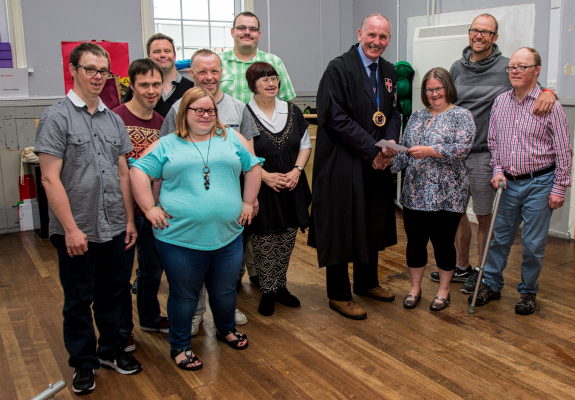 The City of Durham Freemen have given a £500 donation to the cost of the work which includes redecorating and the inclusion of mirrors, along with barres to provide standing support for those unsteady on their feet.
The bulk of the cash has been raised by the community centre with the remaining £2,400 needed coming from donations sought by TIN Arts – which has 14 full-time and part-time core staff, supported by ten associated practitioners.
The organisation's work on the dance space supports children from two to 18, young adults in their late teens and a dance theatre company for artists with learning disabilities.
Martin Wilson, the charity's co-founder and executive director said: "We exist to inspire and enable people of all ages, backgrounds and abilities to celebrate their potential through dance and the wider performing arts. From our dance space at Framwellgate Moor we reach schools and local community settings across Durham City and County Durham, as well as embracing adults with learning difficulties unable to access mainstream further and higher education opportunities."……more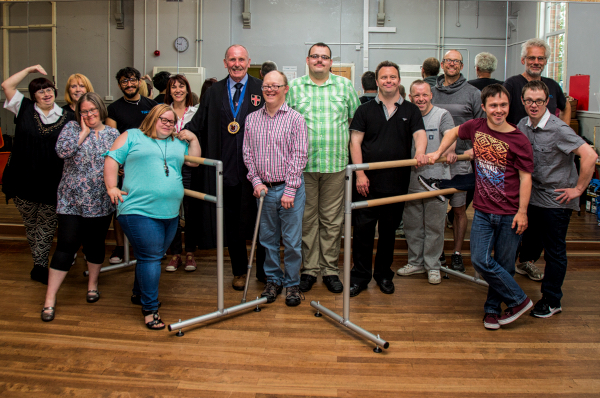 Eric Bulmer, chairman of the wardens of the freemen said: "We are pleased to support a local community-based initiative which provides opportunities for young people and adults with a wide range of learning disabilities to develop movement and co-ordination through music and dance.
"We would also applaud the staff, many of them volunteers, for their dedication in creating a safe, caring and wonderfully friendly environment for some of the most vulnerable members of our community."
---

11th December 2017
The Durham Pointers (£1350)
Double-award winning volunteers, who provide a guiding hand to the tens of thousands of tourists who visit Durham every year, have been given a second cash boost by the city's freemen.
The Durham Pointers received a £4,000 donation from the freemen in 2016 after earning a Queen's Award for Voluntary Service. The money was used then to fund new designs for their familiar pink tabards, new rainwear and the printing of 30,000 information leaflets highlighting city attractions as well as a pamphlet detailing the history of the ancient Market Place - including the near-700 year history of the freemen.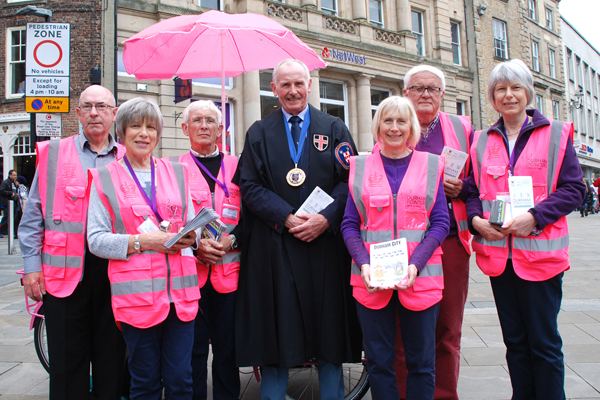 The 70-strong group, which has at least two volunteers on duty in the heart of the city every day, in all weathers, between Easter and November, has now been handed a Gold Award from North-East Tourism bosses as the region's best information providers.
And to underline the pointers' latest success the freemen have donated a second cash injection of £1,350 – the money now earmarked for renewing and reprinting the Market Place pamphlet, their new Conceptual Map, showing places of interest close to Durham City and the Children's Quiz leaflet which all combine to enhance the experience of visitors to the city.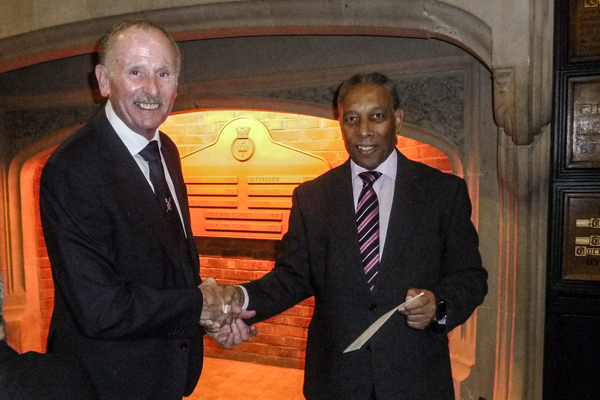 "The freemen's generosity underpinned our work with the first donation and their continuing support allows for the further development of the free information handed to visitors who come from all over the world," said vice chair Trevor Carter.
The chairman of the wardens, Eric Bulmer added: "The volunteers work with enthusiasm and commitment to share our city's historic heritage with visitors from both at home and abroad and that is something we firmly believe is worthy of our support."
---

Neville's Cross Primary School PTA (£500)
The school's Parent Teachers Association (PTA) are very close to raising £60,000 for a multi use games area (MUGA) to provide a usable surface throughout the year to enable a diverse range of activities including football, hockey, netball, tennis basketball, etc.
A large portion of the money was raised by 4 parents swimming the English Channel in a relay team in July 2016.
This facility will be available for use by local community groups when not being used by the school.
The funding granted of £500 will go towards their target of £60,000.