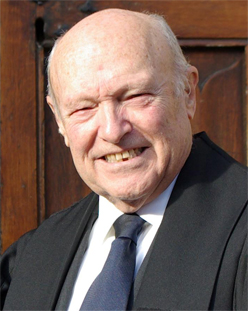 Position: Member
Admitted: 7 Feb 2022
Bryan Proud, who as director of operations led the city's entire 500-strong manual workforce until his retirement over 20 years ago, was one of six men and two women admitted to the ancient trade guilds during a colourful Candlemas ceremony in the town hall.
The 74-year-old widower and father-of-two lives on the city's outskirts. He started work as an apprentice draughtsman in 1964 and further education led to an appointment as a junior engineer with the then city council. His promotion to senior engineer in 1972 required him to supervise the construction of the Leazes Bowl Car Park before taking responsibility for advising private developers building the Milburngate Shopping Centre. He became chief engineer in1980, a post he held for eight years before becoming operations director, a post he held until his retirement in 2000.
One of the many projects in his career from which he takes particular pleasure was his involvement in the unique design of a footbridge over the A690 at the Gilesgate roundabout.
He created a scale model of the bridge, a task which formed an integral part of studies for an honours degree in civil engineering. To prove its safety credentials it was tested – quite literally – to destruction and the results subsequently scrutinised by the Institution of Civil Engineers earned him chartered member status.
Bryan became Warden of the Barbers Company and Secretary to the Freemen in October 2023.