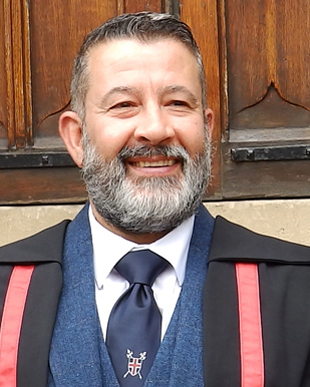 Company: Butchers
Admitted: 7 Aug 2023
Fifty-year-old Chris Williams served an apprenticeship to become a funeral director and embalmer – the twin awards making him eligible under servitude to join the ranks of the freemen.
His admission to the Butchers' Company brings him together with his dad, Mac, currently serving as warden. Mac has been an associate member of the Freemen of England and Wales for six years and was sworn in as a city freeman in 2020. Earlier this year he was appointed Recorder, an honorary position working in support of the city's mayor at civic functions.
Chris, father of two sons aged 28 and 18, and a proud hands-on granddad.
After leaving school he attended Peterlee College and studied "A" levels but it always his ambition from an early age to enter the funeral profession. While he was at college he was introduced to Durham Funeral Director Norman Alderson and accepted his offer of a YTS in 1996. Two years later, after a brief spell in retail he was offered a full-time appointment with the Ushaw Moor-based company – which also has premises in Coxhoe and Langley Moor -and has been with them for the past 27 years.
He was proud to be part of the company's centenary celebrations in 2021 – at the same celebrating his own 25th year with them.
He lives with partner Lisa, a specialist working in the prison service and his step-son, in a village west of Durham. He has a keen interest in music, playing the drums at home, and attends music festivals and gigs. He owns two firearms and enjoys indoor range shooting in Ferryhill, a hobby he shares with his youngest son, insisting "it's a good stress-busting hobby." Lisa for her part favours horse riding.
I was encouraged and supported to fulfil my long held ambitions to be a funeral director. All the training and hard work across all those years the years have stood me in good stead to carry on doing a job I still enjoy to this day.