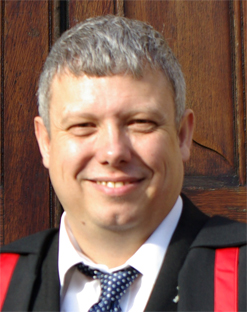 Company: Butchers
Position: Freeman
Admitted: 6 Nov 2023
The 45-year-old started watching Durham Wasps when he was six years old and went on to play the game, first at the Durham Rink and then while studying at university.
Today the father-of-three is content to watch matches with his dad at Whitley Bay Ice Rink.
John attended Framwellgate Moor Comprehensive and went on to be awarded a Higher National Diploma in Computing from Teesside University. He has since worked providing technical support, both in computers and accounts programmes, for Apple and Sage and currently works as an administrator in north-west Durham, where he lives with partner Natasha, a teacher working in special education and his son
Another of his interests – as a breeder of tropical fish – earned him a place in the hobby's world rankings. He won national and international acclaim when he crossbred guppies, creating a strikingly colourful fan tail strain by successfully pairing a delta tail with a double sword tail. His efforts won him first place in the UK's IKGH European competition in 2010.
"At one time I had a dozen tanks but now settle myself with one tropical aquarium downstairs and some goldfish upstairs," said John.
Bryan, was first a draughtsman and went on to be awarded an honours degree in civil engineering. At one time he led a 500-strong workforce responsible for re-building, re-shaping and repairing the fabric of Durham City. He was appointed the city's chief engineer in 1980 and operations director eight years later - a post he held until his retirement in 2000. He was sworn-in as a freeman early last year, with John lodging his application months later.
The Weardale-born father-of-two lives on the outskirts of the city. His daughter Kay is an NHS administrator.