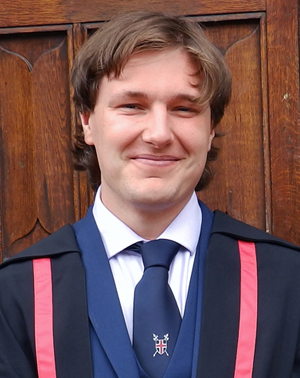 Company: Drapers
Admitted: 7 Aug 2023
Matthew has just completed the first year of his studies at Durham University, his entry into the ranks of the freemen provides double fulfilment.
The first is the continuation of the Vest family connection to the Drapers' Company which started with William, a master tailor born in 1796. His great grandfather George, and all his brothers were freemen, as were his grandfather Arthur along with his brothers Derek and Roland and Roland's son Gavin, as well as Matthew's uncle Stephen.
His mother Gillian, a medical secretary at Bishop Auckland Hospital, helped create history in 2011 when she was among the 30 women sworn in that year - the first to break down the men-only barrier to membership which had survived for nearly 700 years.
"I was happy to follow my granddad's encouragement to help maintain the family tradition but, as an archaeology student, the more research I do into the history of the freemen the more excited I got," said Matthew, who lives in Bishop Auckland.
During his first year of study he has been involved, with other undergraduates, in a dig at Auckland Castle, examining the remains of the 17th and 18th century remains of the bishops' ice houses, as well as studying the remnants and line of the nearby Roman Road.
History has long been his passion and when he completes his studies he hopes to extend his work in field archaeology.