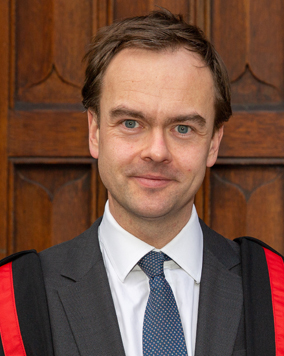 Admitted: 7 Feb 2022
40-year-old Robert Ribchester has taken a lead provided by his dad Alan, a chartered accountant, a long-serving freemen's trustee, more lately a member of the Cordwainers' Company and whose financial expertise guides the hand of the freemen's charitable trust.
However, Robert, now a partner in the Durham-based firm in which his father was also a partner, is an award winning chartered accountant in his own right, voted the profession's North East top newcomer in 2012.
He attended St Margaret's primary and then Durham School before studying economics at Edinburgh University. He came back to Durham University where he was awarded a Masters' Degree in business and finance before moving to London where he stayed for six years. During that time he qualified as a chartered accountant, returning to Durham in 2010 to join his family's firm which can trace its' history back more than a century. Within two years was voted the region's new accountant of the year.
Robert lives in Durham with his wife Becky and their three children and tries to find time to play golf and squash.
He is currently chairman of the Durham Cathedral Schools Foundation, a trustee of the Henry Smith Charity, founded in 1598 and a member of the Durham Committee of the children's charity Barnardos. He has also previously held directorships of two regional enterprise agencies.