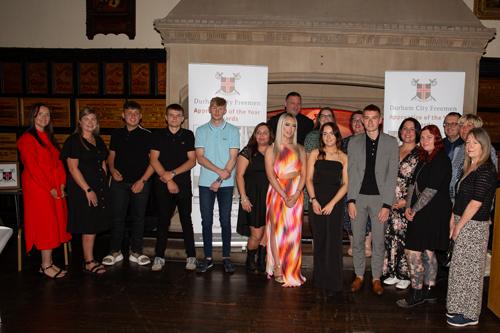 A pioneering new award scheme, showcasing the achievements of Durham City's modern-day craft apprentices, is led by an organisation whose roots reach back into mediaeval history.
APPRENTICES' AWARDS TAKE THEM BACK TO THE FUTURE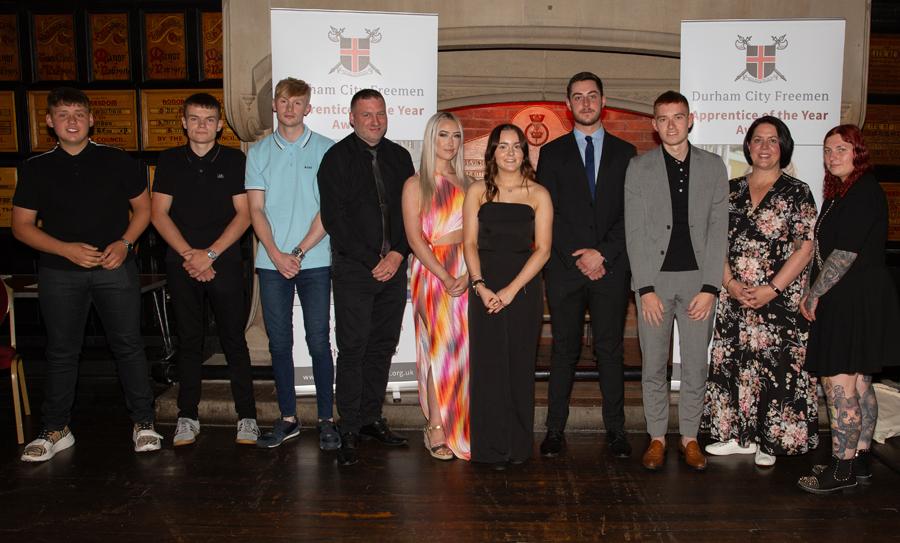 The newly forged partnership, embracing the city's Freemen, New College Durham, Durham University and Durham Cathedral, made their first awards to thirteen young men and women, judged "best in class," across a range of trade skills.
One of the group, twenty-year-old Anna Cullen, whose meteoric rise took her from trainee to company executive in less than two years, was voted "Apprentice of the Year" by the partnership's four-strong selection panel.
At a ceremony in the city's Town Hall on Friday, June 30 th the winners were presented with special awards by County Durham's Lord Lieutenant, Mrs Sue Snowdon.
The freemen, whose origins are believed to reach back to 1327, have continuously represented the city's craftsmen across the intervening centuries. Once, as many as 16 trade guilds, exercised significant control over the commercial and economic life of the city, ensuring high standards of workmanship and assuming responsibility for training apprentices.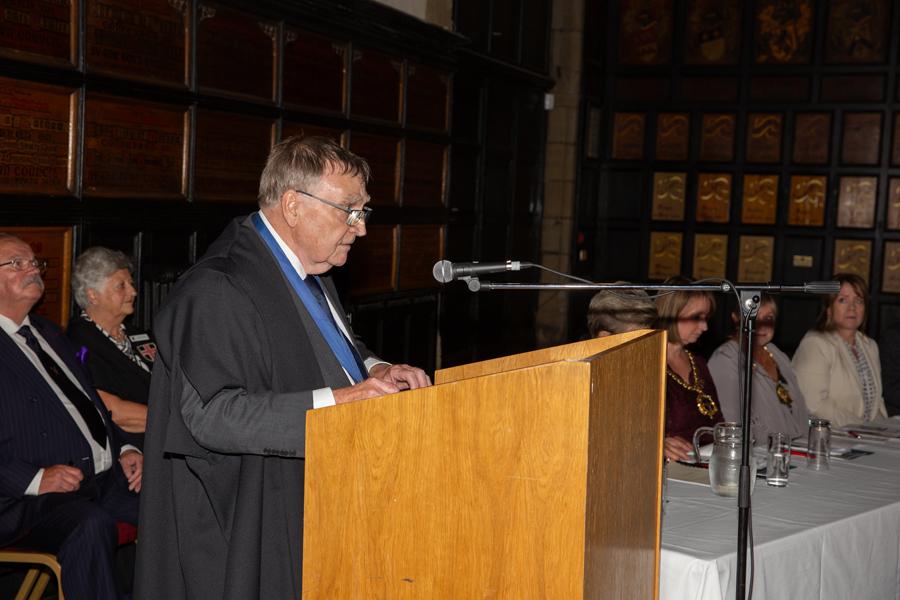 John Booth, Chairman of the Wardens of the eight surviving guilds, with 270 members, explained: "These awards give us a 21 stcentury opportunity to work directly with training organisations and employers to develop a strong partnership which recognise excellence in craft skills of both men and women. It also gives us a unique opportunity to celebrate a success which spirits us back to our roots.
"We are already committed to extending this venture into next year and beyond – reaching out to embrace the success of more apprentices in the Durham area and the companies which employ them."
New College Durham currently has 1,300 apprentices studying on more than 60 apprenticeship training programmes and have established contacts with a network of 450 employers across the region.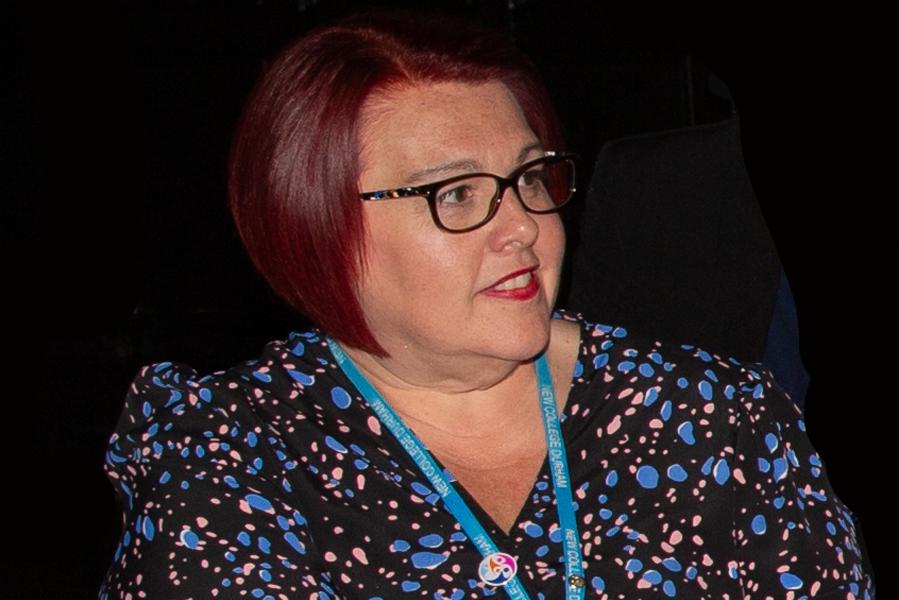 The college's Director of Apprenticeships and Partnerships, Sharon Bennett said: "We are privileged to be part of the inaugural Durham City Freemen's Awards. As a leading college of further and higher education we appreciate the vital role apprenticeships play in the region's economy. Our courses provide the training and work experience they need to progress their careers and offer employers a cost-effective way to plug skills gaps and upskill their workforce.
"We are delighted the awards recognise both the apprentices and employers of Durham City. We have been incredibly impressed by the passion and dedication the freemen have shown in organising the event and can't wait to take the awards to another level next year"
Award Winners
Category - Carpentry and Joinery - New College Durham
Ty Caile has developed into a very hard worker, with good time keeping, goes above and beyond and nothing is too much trouble.
His peers recognise how far he has developed but more importantly, his emerging hand skills. Ty deserves recognition for his learning journey to date, as it shows what students can do with the right positive energy.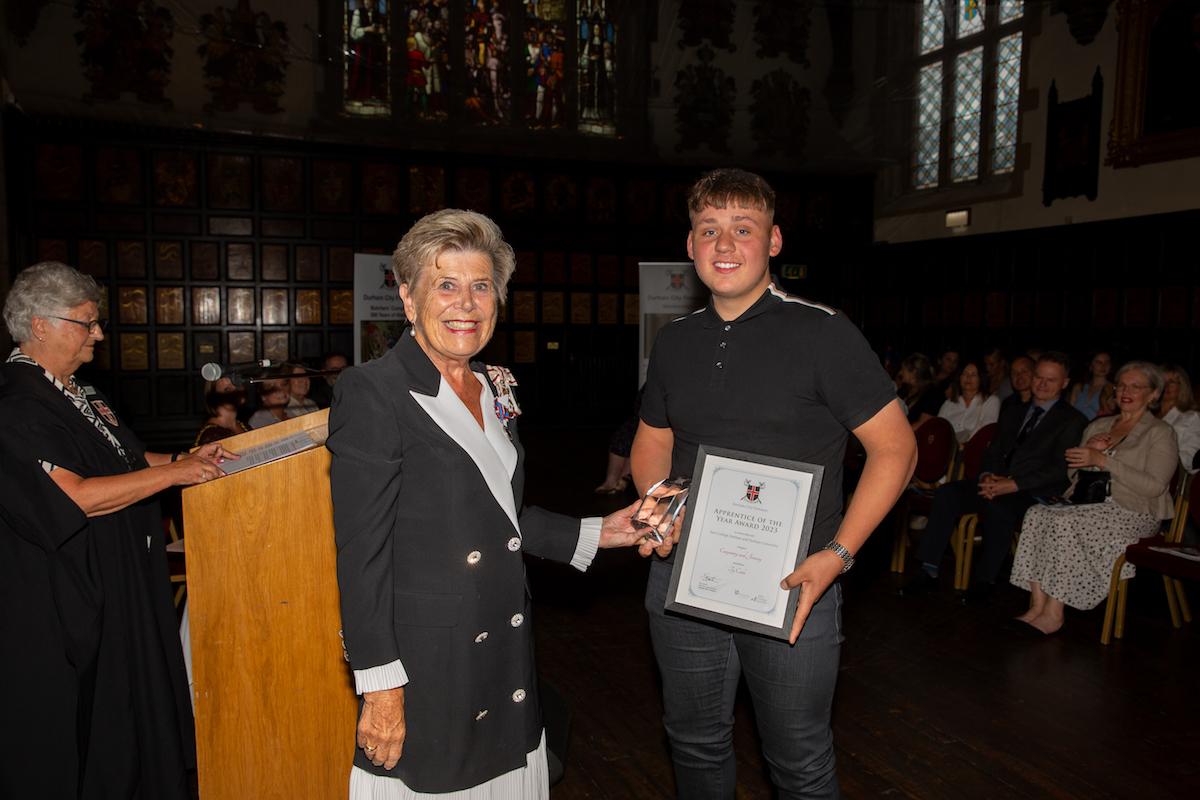 ---
Category - Digital Marketer - New College Durham
Anna Cullen, from Chester-le-Street, left Durham's St Leonard's RC with A-levels in English Literature, Psychology and Media Studies in the summer of 2021. Within weeks the teenager, whose parents both work in the banking industry, joined the award winning Sunderland-based chartered architects and engineers, Building Design Northern Limited, as a digital marketing apprentice.
Anna sets high expectations for herself to ensure she has all of the knowledge, skills and behaviours she needs to succeed in her career.
She has also been involved in mentoring a new apprentice to the business.
"Anna went a long way in a very short time and the quality of her contribution was inspiring. Her final portfolio was amazing, earning her a rare distinction," said the college's Apprenticeships Skills Co-ordinator, Mary Summerson.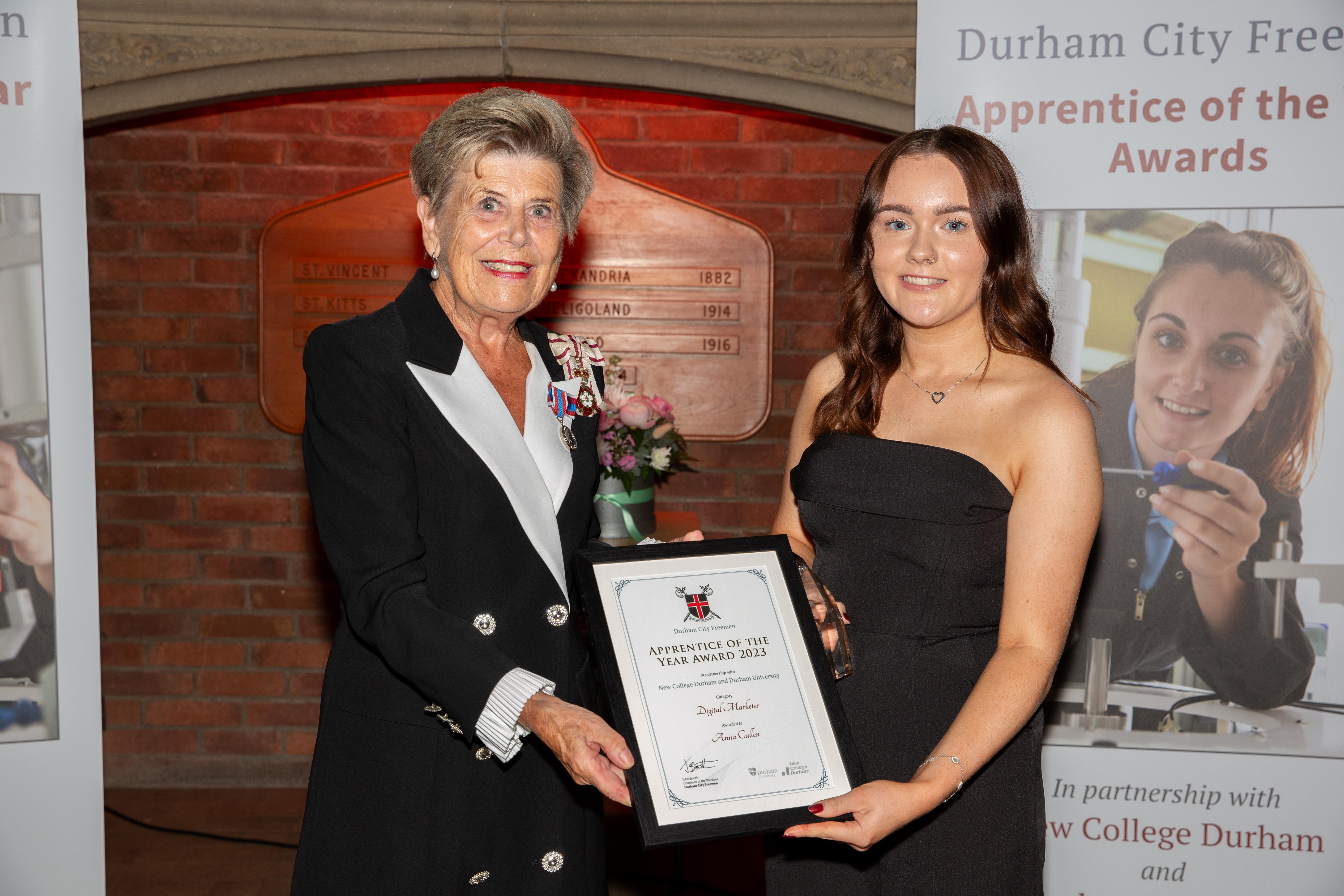 ---
Category - Electrical Installation New College Durham
Paul Swindell is a mature learner who has been very consistent in his approach to learning during his time here at New College Durham achieving excellent exam results.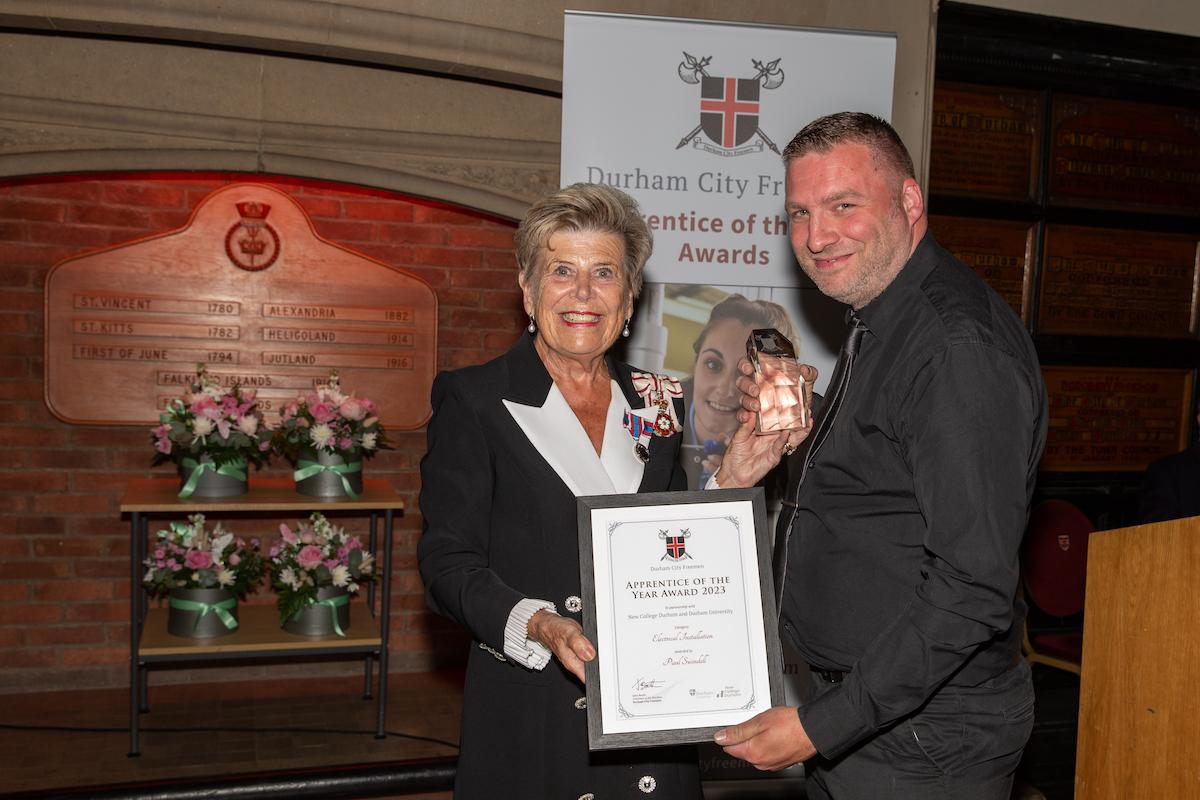 ---
Category - Electrical Installation - Durham University
Senior apprentice Reece Spurdens (23) has spent four years working on electrical installations at Durham University and he too has impressed his tutors and plans to go on to take a Higher National Certificate. At work his skill and imagination also impressed his bosses when he developed a fail-safe system that improved safety on electrical items being left on charge overnight.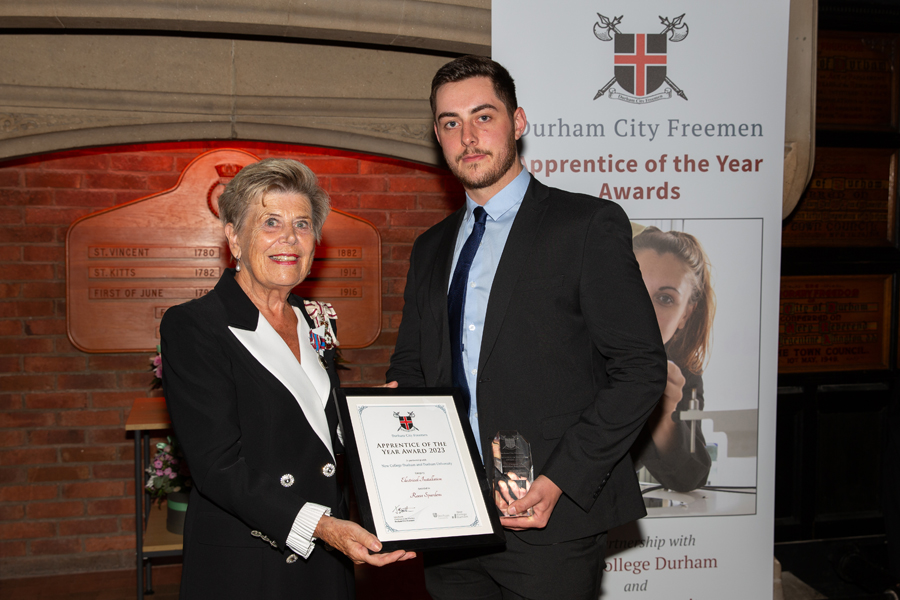 ---
Category - Hairdressing New College Durham
Former primary school teacher Rachel Turner opted for a career change to fulfil her passion for hairdressing and it paid off handsomely. Her college mentors singled out her "remarkable ability" which they predicted will earn high marks at the end of her course.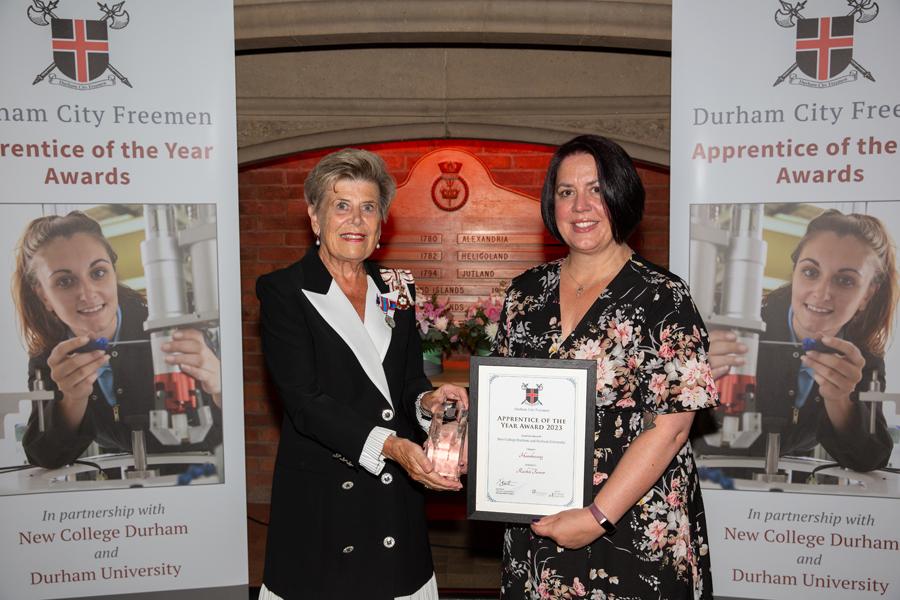 ---
Jessica's Jackson's passion for hairdressing has allowed her to flourish in the areas of creative, bridal and prom hair, from starting her apprenticeship as a shy, quiet individual to achieving breath taking Bridal and Prom Hairstyles.
She displays amazing client care and is totally professional in her approach to her chosen discipline. Her ability to understand the unique visions and individuality of each client combined with her creative talent results in stunning styles for special occasions.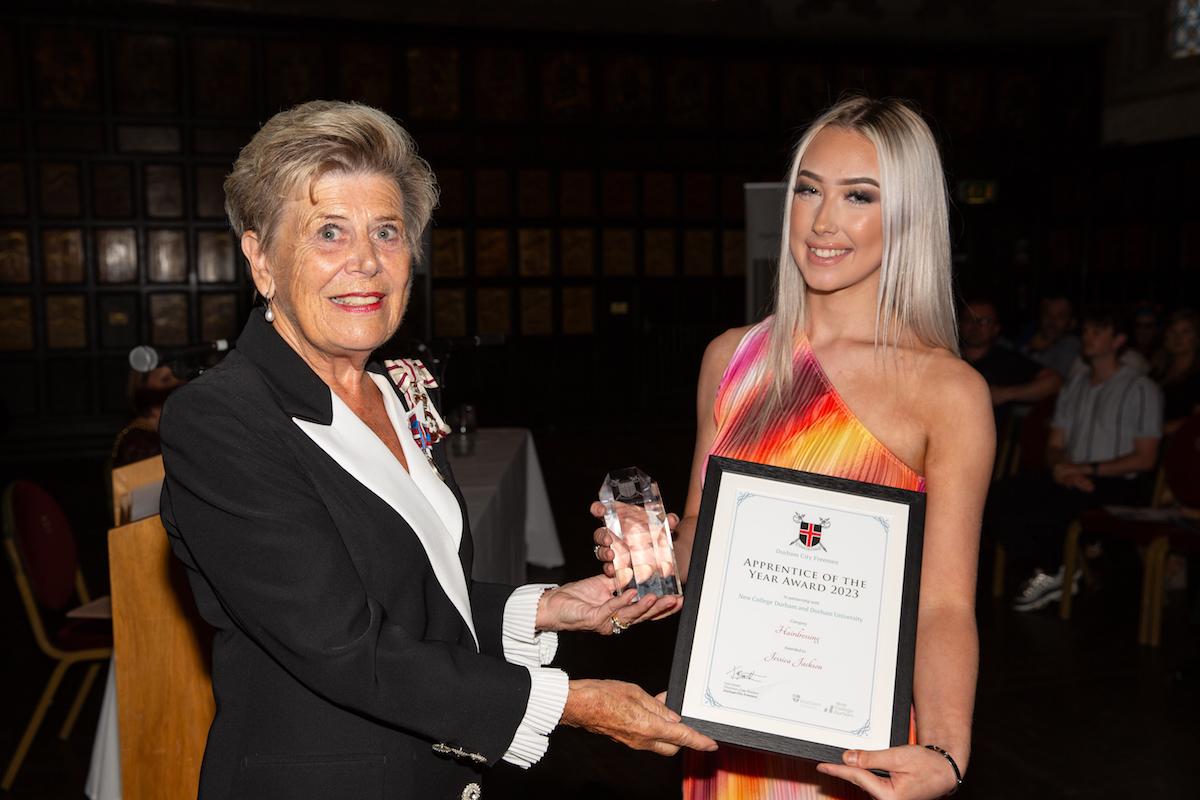 ---
Category - Information Technician - New College Durham
Luke Hegarty's ability to work on his own initiative and streamline his company's "difficult to use" internal systems won him a permanent job.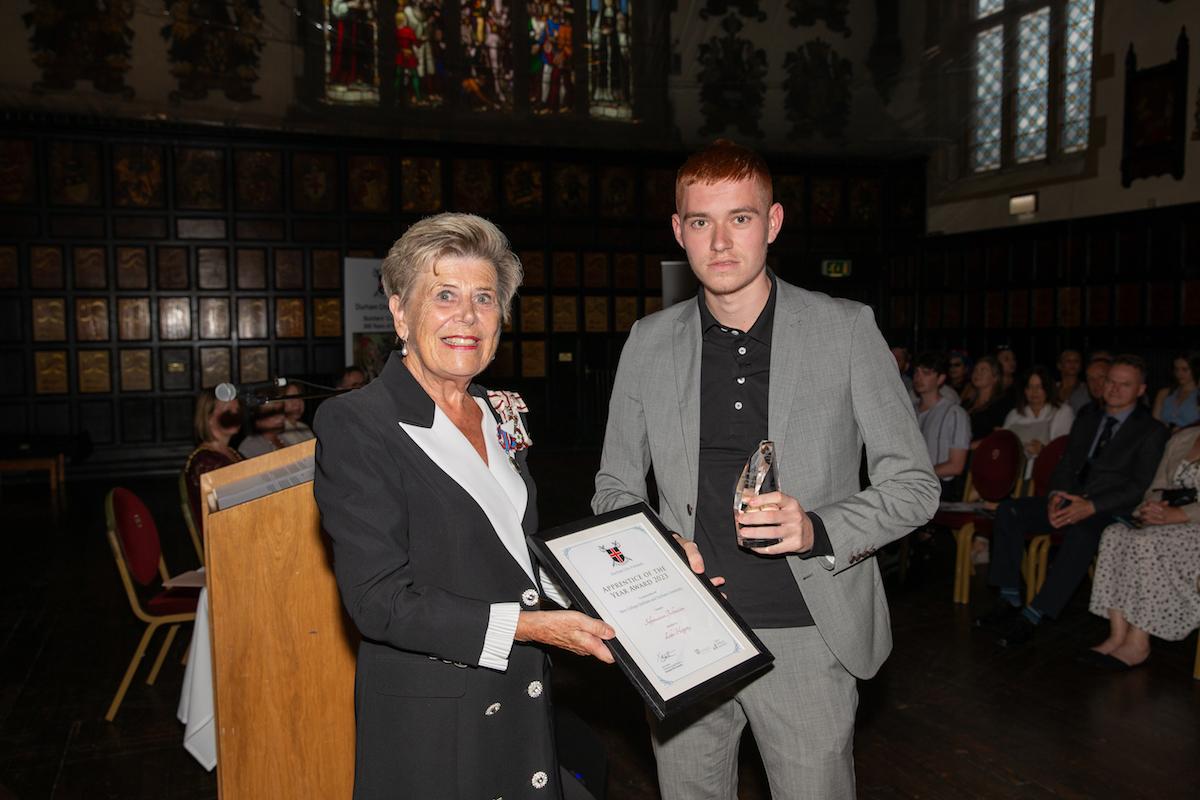 ---
Category - Painting and Decorating - New College Durham
Zinnia Young works for the North East Autism Society. She is relentless in her contributions to her organisation and college course work.
She has an excellent attendance record. She consistently spends her time working to a high standard and goes the extra mile to give a very good standard of work, always giving 100%.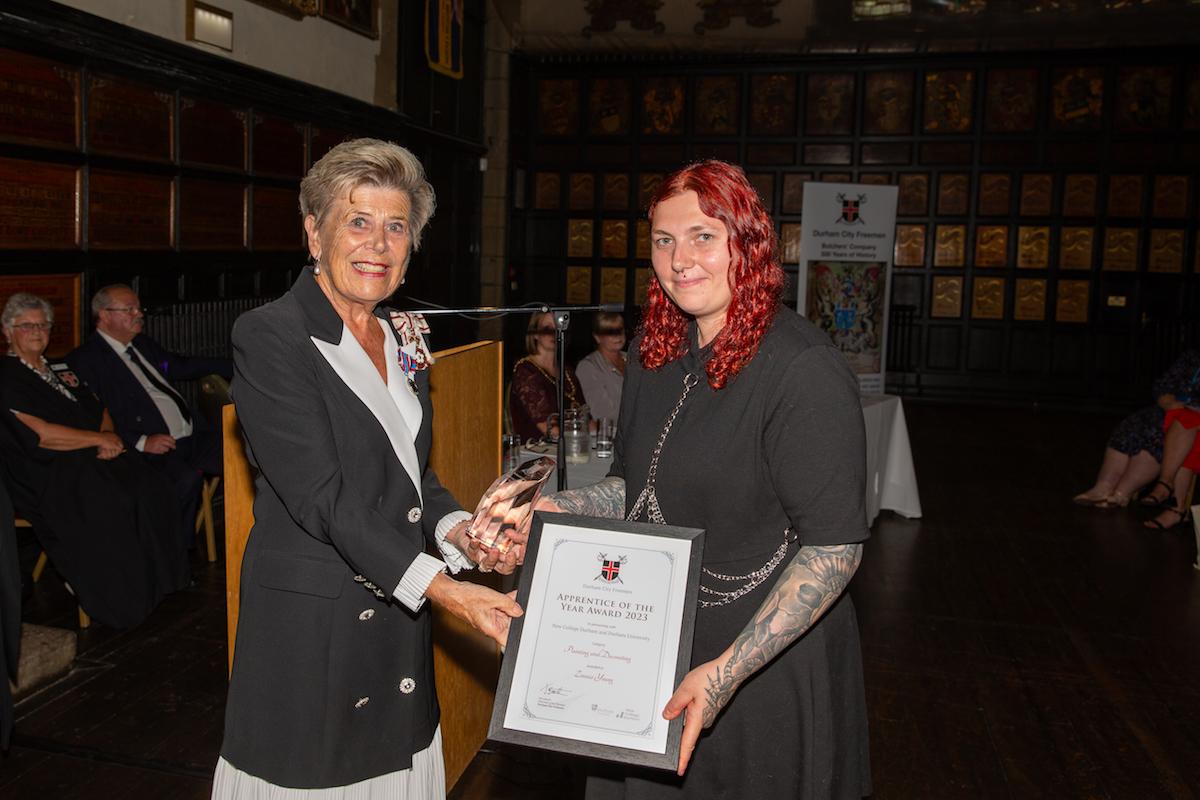 ---
Category - Plumbing and Gas - New College Durham
Luke Bell has successfully completed his Plumbing & Gas apprenticeship at New College Durham.
As a dedicated and determined apprentice, Luke has exhibited exemplary skills and expertise in the field of plumbing and gas work. His commitment to his craft and enthusiasm for learning has set him apart from his peers.
Luke's outstanding achievement lies in being the first student in his cohort to pass his gas assessment, demonstrating his exceptional understanding of gas systems and safety protocols. This accomplishment showcases his exceptional aptitude and dedication to mastering the complexities of the trade.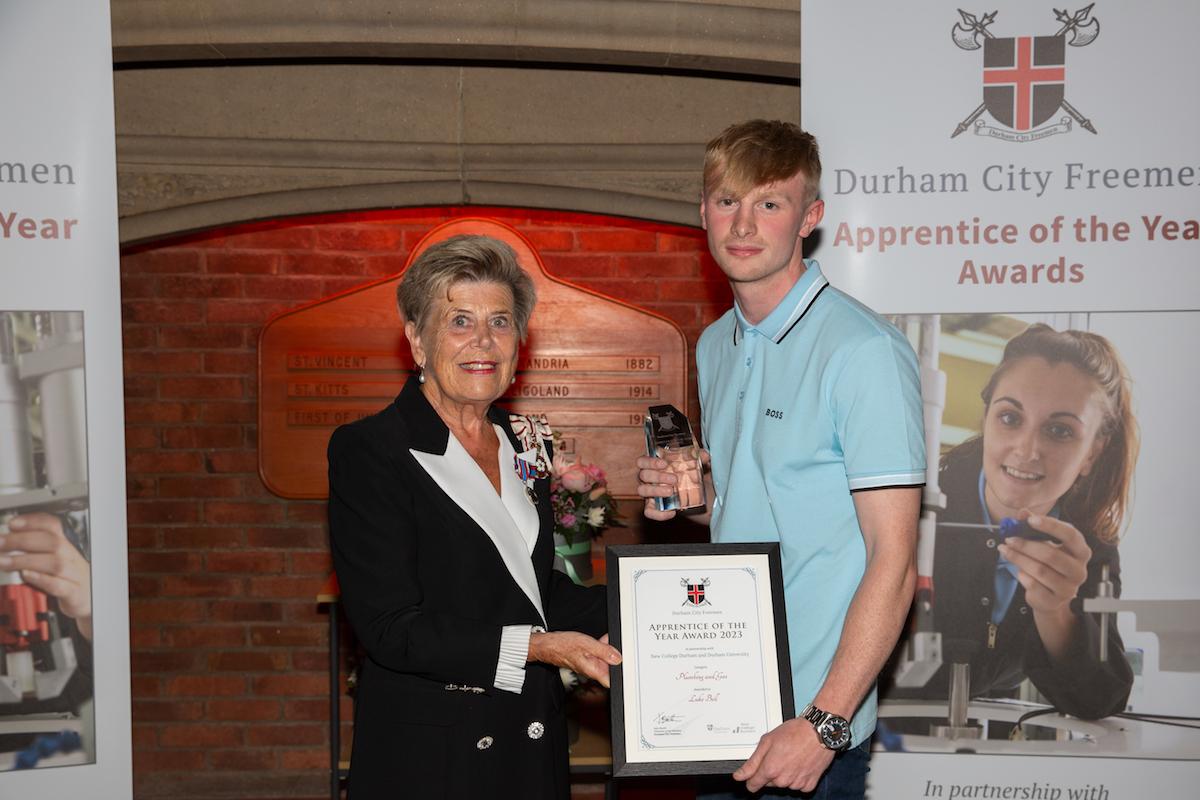 ---
Logan Reed was nominated for this award, due to his hard work and dedication at College and in the workplace. He has competed in two competitions: One at Darlington College for the HIP magazine against other students from regional Colleges and one for the World skills.
His employers speak very highly of him and are delighted to have him as part of their team and see him as a big part of the company's future development.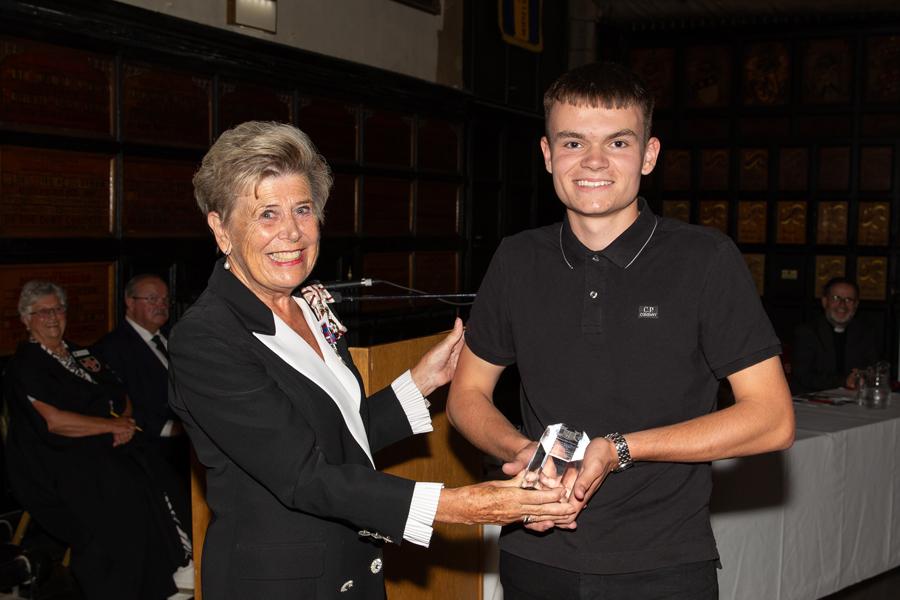 ---

Prior commitments have forced three winners to miss the ceremony.
Twenty-year-old Jed Williams from Shadforth Village, has been part of a team of Durham Cathedral stonemasons renovating the 17 thcentury Monks' Garden Wall, a major undertaking on the west face of the building. In his spare time he is an accomplished musician and plays the trumpet, tenor horn, bass and drums
But he is currently with the Tall Ships Youth Trust, training as a deckhand ahead of the Rolex Fastnet Yacht Race at the end of July. The event, the world's largest offshore race covers more than 600 miles in five to six days and will bring together an expected 300 yachts. The competitors' journey starts in the Solent and takes them around Land's End to the Fastnet Rock off the south west coast of Ireland and back. Andrew McCartney and Alfie McKie were both on holiday.
Andrew McCartney's journey to becoming an advanced site carpenter took him through college courses in Sunderland, Gateshead and Durham. But, to get the site experience employers demanded, he worked as a volunteer – a move which finally clinched him a Durham County Council apprenticeship.
Alfie McKie's outstanding attendance record and willingness to put in extra hours on assignments earned him top exam results and "set a high standard for others to follow,"
AWARD WINNERS, who each received a framed certificate, an engraved crystal trophy and a £50 Amazon voucher were:-
Digital Marketer: Anna Cullen (20), Chester-le-Street, Apprentice of the Year.
Carpentry and Joinery: Ty Caile (16), Crook; Andrew McCartney (20), Washington.
Electrical Installation: Alfie McKie (17), Witton Gilbert; Paul Swindell (39), Lanchester; Reece Spurdens (23), Brandon,
Hairdressing: Rachel Turner (44),Esh Village; Jessica Jackson (17), Consett.
Information Technician: Luke Hegarty (16), Kelloe.
Painting and Decorating: Zinnia Young (27), Sunderland.
Plumbing and Gas: Luke Bell (22), Spennymoor; Logan Reed (17), Ferryhill.
Stonemasonry: Jed Williams (20), Shadforth Village.