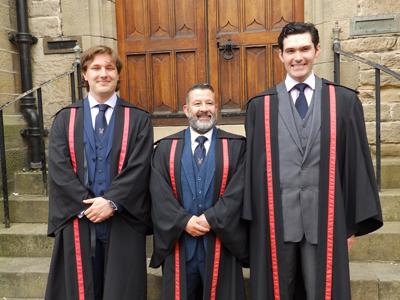 The global financial crash of 2008 hit every discordant note for time-served organ builder Vincent Syson. Five years after starting his dream job with the world renowned Durham City instrument makers Harrison and Harrison and completing his apprenticeship he found himself out of work and jobs for men with his skills had dried up in the region.
FORMER ORGAN BUILDER'S CAREER SWITCH HITS ALL THE RIGHT NOTES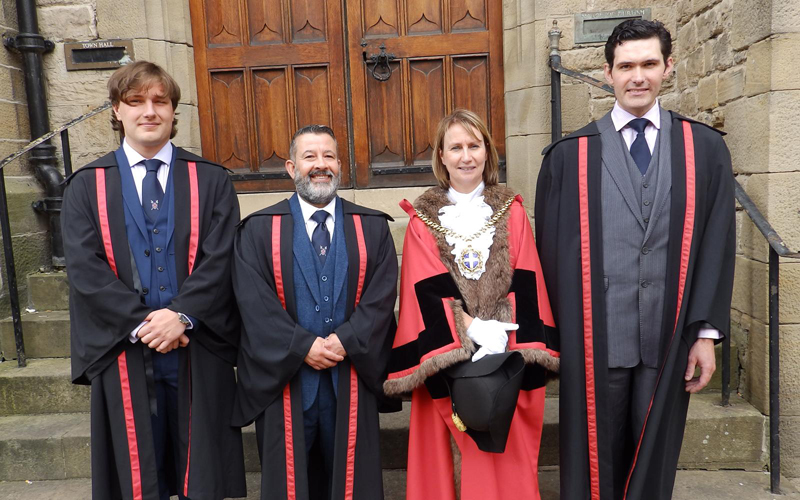 Opportunities were few but he pulled out all the stops to successfully carve out a new career - as a butcher - and played a pivotal role in clinching a top national award for his current employers.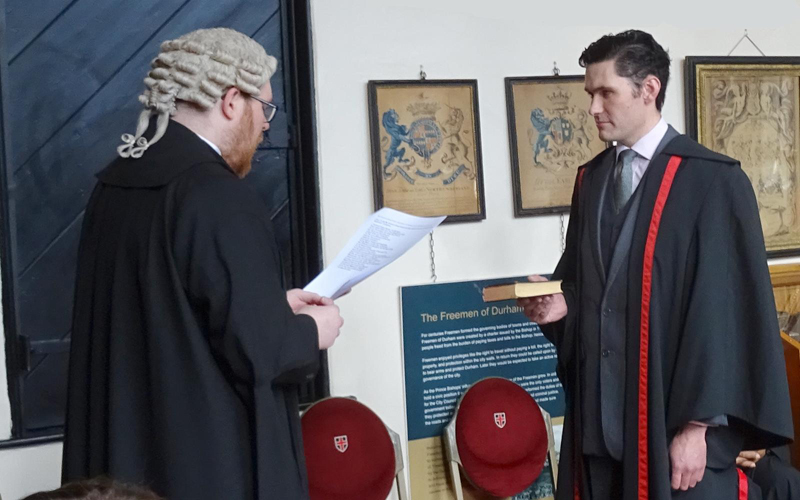 At a centuries-old ceremony in Durham's Town Hall 32-year-old Vincent, alongside fellow newcomers Chris Williams, a funeral director and archaeology degree student Matthew Brookes, was sworn in as a freemen.
Technology lessons at school in Gateshead had fired Vincent's enthusiasm for woodwork and led to work experience in the Durham organ factory before he landed his first job there. He still actively maintains his interest in wood turning, furniture restoration and tackles a small amount of organ tuning and maintenance. Alongside this he has many and varied musical interests which involve playing the organ, accordion and Northumbrian Pipes.
When he was made redundant he was fortunate to spend time working for an organ tuner in Scotland, as well as playing the organ at weddings and funerals. As enjoyable as it was he needed full-time work and thought long and hard about a new direction.
When a friend asked him to help out in a butchery business in Gosforth he never looked back and went on to hone his new-found skills in Fenwick's Food Hall in Newcastle under the banner of Northumberland Meat Company and Blagdon Farm Shop, before switching to the Broom House Farm Shop near Witton Gilbert, where he has been for the last six years
He was part of the small team which earlier this year claimed the national prize of best Farm Shop and Butchery of the Year at a ceremony in Exeter, their winning trophy presented by the television broadcaster and writer Hugh Fearnley-Whittingstall.
Vincent, who lives in Birtley, regularly plays the organ in St Andrew's Church, Lamesley, the northern-most parish church in the Durham Diocese and with a history dating back to the 13thcentury.
He also sits on the committee of the Northumbrian Pipers' Society and he and fiancé Jessica, a diamond specialist based Tyneside scouring the world for gems to make bespoke jewellery, plan to marry next May.
Vincent said: "A career in organ building was something I set my heart on but after completing my apprenticeship there were simply no vacancies for qualified organ builders in this area. I was thrown in at the deep end with the butchery opportunity and have since gained a nationally recognised qualification in meat and poultry processing. I set out on a journey I never imagined I would have to make but I am proud of all that I have achieved, underlined by the national award, membership of the Butchers' Company and all made possible by my factory apprenticeship."
For Matthew, who has just completed the first year of his studies at Durham University, his entry into the ranks of the freemen provides double fulfilment.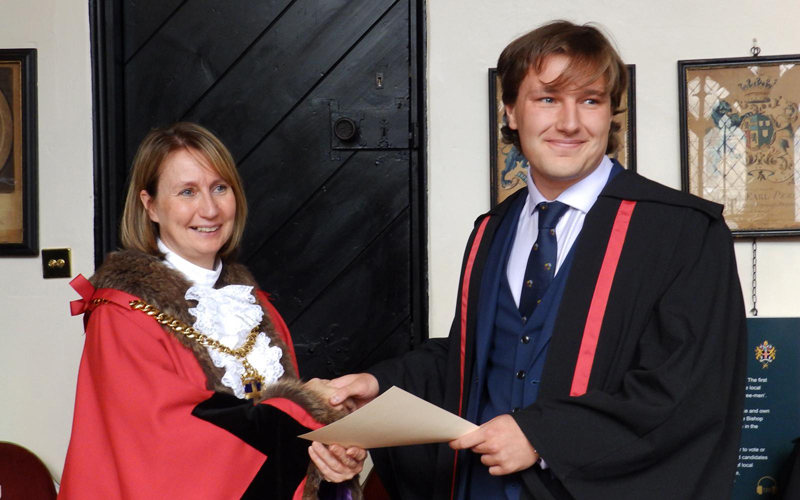 The first is the continuation of the Vest family connection to the Drapers' Company which started with William, a master tailor born in 1796. His great grandfather George, and all his brothers were freemen, as were his grandfather Arthur along with his brothers Derek and Roland and Roland's son Gavin, as well as Matthew's uncle Stephen.
His mother Gillian, a medical secretary at Bishop Auckland Hospital, helped create history in 2011 when she was among the 30 women sworn in that year - the first to break down the men-only barrier to membership which had survived for nearly 700 years.
"I was happy to follow my granddad's encouragement to help maintain the family tradition but, as an archaeology student, the more research I do into the history of the freemen the more excited I got," said Matthew, who lives in Bishop Auckland.
During his first year of study he has been involved, with other undergraduates, in a dig at Auckland Castle, examining the remains of the 17thand 18thcentury remains of the bishops' ice houses, as well as studying the remnants and line of the nearby Roman Road.
"History has long been my passion and when I complete my studies I hope to extend my work in field archaeology," he added.
Fifty-year-old Chris Williams served an apprenticeship to become a funeral director and embalmer – the twin awards making him eligible under servitude to join the ranks of the freemen.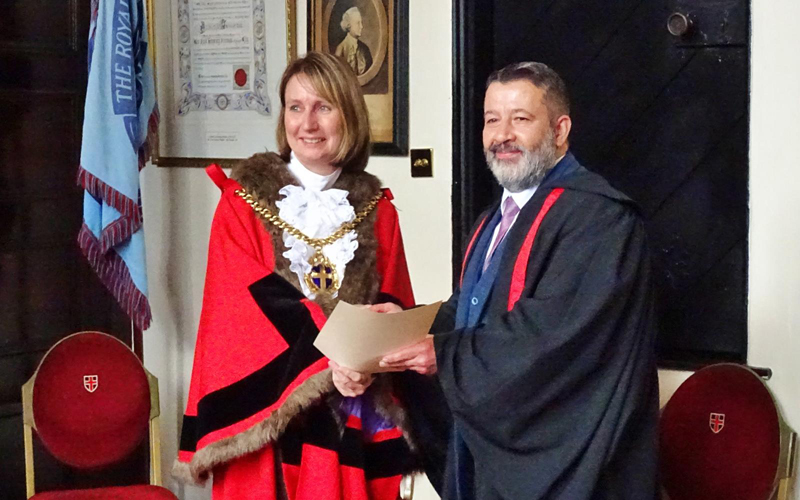 And his admission to the Butchers' Company brings him together with his dad, Mac, currently serving as warden. Mac has been an associate member of the Freemen of England and Wales for six years and was sworn in as a city freeman in 2020. Earlier this year he was appointed Recorder, an honorary position working in support of the city's mayor at civic functions.
Chris, father of two sons aged 28 and 18, and a proud hands-on granddad.
After leaving school he attended Peterlee College and studied "A" levels but it always his ambition from an early age to enter the funeral profession. While he was at college he was introduced to Durham Funeral Director Norman Alderson and accepted his offer of a YTS in 1996. Two years later, after a brief spell in retail he was offered a full-time appointment with the Ushaw Moor-based company – which also has premises in Coxhoe and Langley Moor -and has been with them for the past 27 years.
He was proud to be part of the company's centenary celebrations in 2021 – at the same celebrating his own 25thyears with them.
He lives with partner Lisa, a specialist working in the prison service and his step-son, in a village west of Durham. He has a keen interest in music, playing the drums at home, and attends music festivals and gigs. He owns two firearms and enjoys indoor range shooting in Ferryhill, a hobby he shares with his youngest son, insisting "it's a good stress-busting hobby." Lisa for her part favours horse riding.
"I was encouraged and supported to fulfil my long held ambitions to be a funeral director. All the training and hard work across all those years the years have stood me in good stead to carry on doing a job I still enjoy to this day," added Chris.