Durham Cathedral Apprentice
After months of negotiation we were particularly pleased to sponsor an apprentice joiner employed by the Dean and Chapter at the Cathedral. Local teenager, Peter Bennet started his apprenticeship early in 2012 and is working alongside the Cathedral's experienced joiners. As well as receiving guidance and mentoring from the cathedral's experienced joinery team, he is receiving formal training at New College, Durham. This project takes the Freemen back to our trade and craft roots. We hope that when the apprentice has served his time he will become a freeman by right of servitude and join the Company of Carpenters. Joiners, Wheelwrights, Sawers and Coopers, which was established in 1661.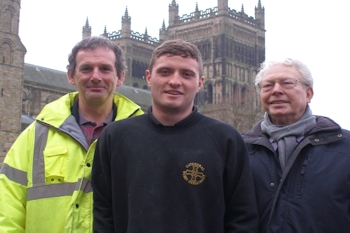 ---

St Margaret's Centre

We were attracted by an appeal by St Margaret's Centre for funding to continue structural improvements to the old school building in which it is based and where a lot of work has gone towards making the building better suited to its range of activities. The centre houses an ecumenical project supporting people with mental health problems and includes a training workshop for people recovering from mental illness. The centre's manager and development manager attended the Martinmas Guild day and described the work that they do and their aspirations for the future.
---

Restoration of St Giles
In 2012 St Giles Church, a Grade 1 listed building, celebrated the 900th anniversary of its consecration in June, 1112. As part of the celebrations, an appeal was launched to refurbish and restore the stature of St Giles above the entrance to the church, which was erected in 1876, and the coats of arms alongside it.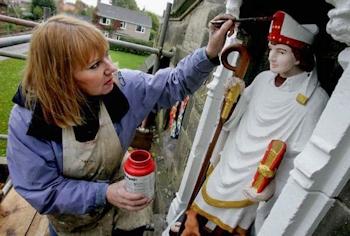 The Freemen agreed to fund the professional restoration of the crumbling four-foot high statue which stands above the main entrance of the church in Gilesgate. It is good to report the patron of healing has made a full recovery after undergoing major surgery in an operation funded by the City of Durham Freemen.
---

Mayor's Charity Appeal
As at previous annual dinners we were able to present a cheque to the Mayor of the City in support of the Mayor's Charity Appeal which was for Heel and Toe. Which offers support to children with cerebral palsy and other motor disorders, and Blind Life in Durham, a project managed by a committee of visually impaired volunteers to help and support the blind and partially sighted in the community.
---