Cathedral Apprenticeship

Support for the apprentice joiner at the Cathedral continues and Gaye Kirby, Head of Development at the Cathedral, reports that Peter is gaining valuable experience and is having the opportunity to work on the major Open treasure development project. Peter has been kept very busy and the Joinery team are very pleased with his progress.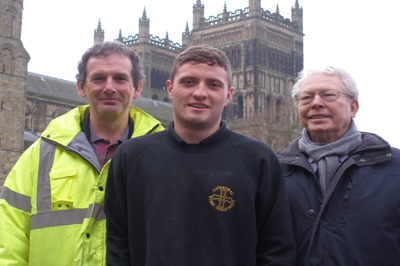 ---

Fifth Durham Scouts
In March the 5th Durham Scout Group was left stranded when their minibus was destroyed after a caravan parked nearby was deliberately set alight. On hearing of the crisis the freemen agreed to make a donation of £2000. A new vehicle has now been secured and the scouts look forward to getting their activities back on track.
---

Mayor's Charity Appeal
We were again able to support the charity appeal chosen by the Mayor of the City. This year £800 was donated to the Treetops Unit which is based in the children's ward of the University Hospital of North Durham. A cheque was presented to the Mayor at the Annual Dinner.
---

West Rainton Mining Banner Project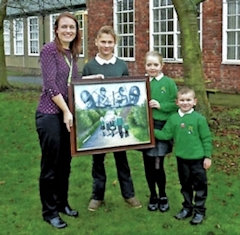 West Rainton has a rich mining heritage with Adventure Colliery and Cocken Drift Mine being located nearby. Unfortunately the village's original banner was lost in the 1970s and as a result they have been unrepresented at the Durham Miners gala since. The West Rainton Primary School led by Head Teacher Alison McDonough who is a Freeman in the Plumber's Company embarked on a project to produce a replacement. A grant from the Heritage Lottery Fund enabled the banner to be produced by Bearpark Community Arts working closely with the children. The banner, which is small enough to be carried by children, is double-sided with an image representing the past on one side and a more forward looking child-led image on the other side. We were able to assist in funding a band to lead them at the unveiling ceremony in West Rainton and for its first Gala and blessing at the Cathedral.
---

Lumiere
The Freemen had the pleasure of cooperating with Artichoke of London in providing the westernmost square of The Sands as a site for Fete an illuminated installation forming part of the third Lumiere Festival held in the City in November 2013.
---