Durham City Freemen
History Group
Following its inaugural Meeting on 24th January, members of the History Group enjoyed a guided tour of Durham Castle in December led by its Curator Gemma Lewis. Gemma's knowledge and enthusiasm for the building ensured that the visit was a huge success and appreciated by all those members of the Group who managed to attend. Gemma who is also Curator of the Museum of Archaeology will be very much involved in the initial training and support for the Group as the projects develops.
The focus for the History Group which has 30 members comprising of Freemen and the general public in equal measures, will be two projects.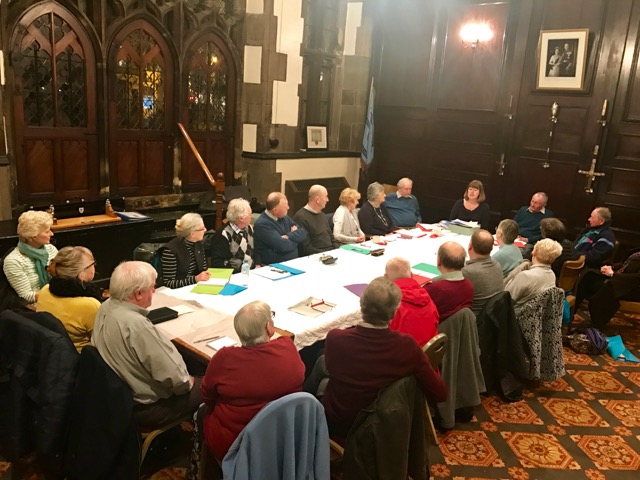 The main project will research a selection of artefacts discovered and recovered from the bed of the River Wear by Gary Bankhead, the result of which will be the publication of a booklet that will shed more light on the life and work of the Freemen and Guilds of Durham City.
The second project will concentrate on 2 of the remaining 8 Companies, the Cordwainers and Drapers. It will unlock the wealth of archive material that is available and through research, provide a more informative picture for the benefit of the Freemen and the general public.
Assembled again on 25 January to begin induction and training in preparation for their research.
The first training session was provided once again by Gemma Lewis in her role as Curator of the Museum of Archaeology. Gemma once again brought her infectious enthusiasm to her talk on 'Handling Objects'.
The group has now embarked on a training programme that will take place over next three months and and include inputs from;
The County Record Office at County Hall,
Durham University library,
Durham University Department of Archaeology.
It is anticipated that regular reports of the Groups' progress will be posted on the website.