Durham City Freemen
History Group
Induction & Training Programme
Durham University Library
Palace Green
Wednesday, 1 March 2017 - 6:00pm to 8:00pm
Learning Centre Room
The archive for the Durham City Freemen and Guilds are split between two sites, the County Records Office and Durham University Library.
The second phase of induction and training relating to archive retrieval was held at Durham University Library at Palace Green and was led by Francis Gotto.
Introductory Talk by Francis Gotto ( Assistant Keeper, Durham University Library)
The purpose of this session was to introduce the Group to the different types of Guild Records, and how to read and interpret them. There then followed a document display from several different companies to provide a glimpse of what is available in the archive.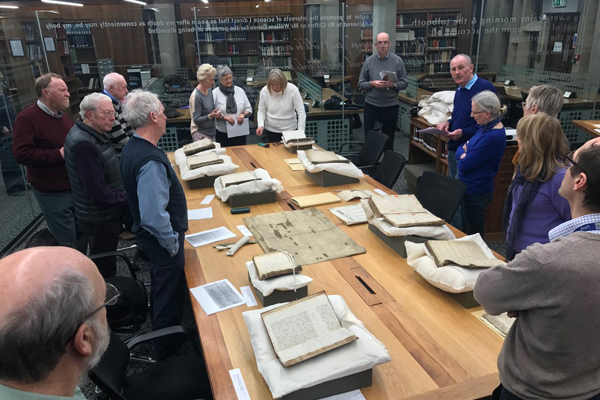 The chief categories of records to survive are: "ordinaries" [i.e. regulations] and founding charters of incorporation, orders, minutes, apprenticeships records, admissions records, call rolls, accounts, fines, and miscellaneous correspondence and papers, including inventories and valuations, and, deposited with the Masons' company records but not strictly part of the Guild Records, an election agent's book for the 1818 Durham City parliamentary election.
A very important element of researching archives is developing the skill of deciphering handwritten documents ( palaeography) so that the information makes sense.
To ensure that the group gained the maximum benefit from Francis Gotto's talk, members were set the task of undertaking an online palaeography tutorial at this url: http://www.nationalarchives.gov.uk/palaeography/default.htm prior to the Induction/Training session.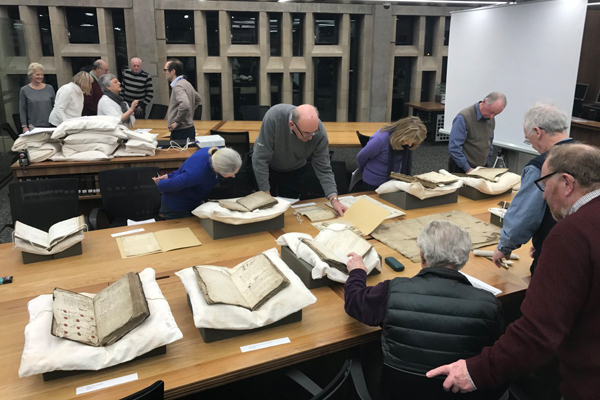 Even the most diligent members of the Group who completed the palaeography tutorial, still found difficulty in deciphering documents that Francis set out in the form of a quiz at the end of session.
It was fairly obvious that there was some work still to do in developing the skills of deciphering documents.
In addition to working on The National Archive's online palaeography (reading old handwriting) tutorial, the Group were invited to browse the online catalogue: http://reed.dur.ac.uk/xtf/view?docId=ark/32150_s1h...
This second phase of archive induction/training was again extremely interesting and enjoyable and provided the perfect platform to move forward.